Sign Up to receive the recordings of The FREE Navarātri Sacred Ceremony
9 NIGHTS OF THE SACRED, A UNIVERSAL PRAYER CIRCLE 
  We gathered together on the first and last day of Navarātri 2023 to pray and stand for Dharma. Invoking the Sacred Feminine, Dūrgā Devī, the great warrior goddess, who protects Universal Values and guides us from ignorance & suffering into self knowledge & freedom.
We invoked the Divine Masculine, Rāma Deva, who like Dūrgā is a great warrior, who protects Dharma & leads by example. Together they stand for freedom, together they stand for truth.
If you would like to have the opportunity to celebrate the 9 days of Navarātri, you can purchase the recordings of the previous years at the bottom of this page. 
Over the last 3 years, we embarked on a 10-day journey of empowerment and spiritual awakening. The 9 Nights of the Goddess Online Festival, dedicated to reclaiming inner power as Goddesses, Mothers in all Forms, Priestesses, Witches, Heroines, Leaders, Role Models, and Wise Free Women, was an unforgettable experience.
This year, we switched gears.  We took the essence of that empowering journey and condensed it into two special Sādhanas that aligned with the sacred Navarātri dates.
We welcomed the Sacred Feminine & the Divine Masculine together for a Universal Prayer Circle for the Courage & Strength to protect and live an integrated life following Dharma. Together, we shared prayers and set intentions for our path, our loved ones & the collective whole. 
Join us for the Navarātri Sacred Ceremony – a celebration of your inner Divinity, a condensed burst of your inner power, and a reminder of the remarkable journey we've shared over the years.
It's time to embrace the change, the evolution, and the Devī & Deva within.
The 9 nights of the sacred, where each night is dedicated to one aspect of Durgā Devī, she who removes pain & sorrow. She is known as the great mother, who is fearless, bestows courage, strength & helps her devotees to face any challenge in life. Turning every difficult situation into a blessing, an opportunity for spiritual growth. 
Love Note from Shāradā Devī
We did not want to miss out on this opportunity to meet again during the auspicious time of the 9 nights of the Goddess.
The last 3 years were incredible, this year we needed rest and integration.
Yet it is important to come together as a world family in prayers, especially during these difficult times.

It is with great honour that we warmly invite you all - deva/men/sacred masculine and devi/sacred feminine/women - again to our beloved Navarātrī this year we call it the Navarātrī Sacred Ceremony.
This is the 4th year that we had gathered. This year we wanted to especially honour the Deva the Sacred Masculine. We need the healthy integrated masculine. We prayed and invoked it in all of us.
We are so grateful to be able to welcome you all and invite you to join us again this year in this Sacred Ceremony dedicated to the Goddess / God that is as you, as me, as all of us.
It is a time where we reflect and have an opportunity to face the truth, let go of the old that is not serving our highest purpose, invoke strength for a dharmic honouring abundant pleasurable way of living, and seek wisdom that frees our hearts from suffering. 
It is a time to forgive, to say I am sorry, to acknowledge the priceless gifts of life and the true purpose of human embodiment. 
It is a time to invoke a Himalayan amount of Spiritual Wealth that cannot be taken away from anyone and will truly support one in abiding in abundance, prosperity and love. 
It is a place where you can know your true self, the whole and complete self… that self that cannot be improved upon because it is better than the best already, unique like a snowflake. 
It is a place where you can know others as yourself and discover that comparison, competition and jealousy has served its purpose and can be converted into admiration, support and collaboration. 
It is a place where you can know the Sacred that is always here… never not here… ever available to celebrate your journey of life. 
May these 9 nights and 10 days dedicated to the Sacred bring us closer, resolve conflicts and untie the most dense knots of the heart so that we can abide in the unconditional Love that we are, that IS. 
With love and infinite gratitude
Shāradā Devī
Devī School 
Night/Day 1
Prayer Circle
Durgā Dev

ī
(approx. 2h30)
The first day/night is dedicated to Durgā Devī to neutralize our binding likes & dislikes, inhibitions & situations we are struggling with. We invoke strength, courage, the will & effort to change what we can in life. We ask for all the guidance & tools to remove all obstacles that stagnate our emotional & spiritual growth. 
We will gather in a Sacred Pūjā ritual and share prayers, mantras, songs and anything else that you would like to offer to Devī during this time together. 
Night/Day 2-9
Self Sadhana 
You are invited to continue doing your own Sadhana 
You can also access to our previous Navarātri Online Goddess Festival Recordings.
You are welcome to read more about our Navaratri 2022, 2021 & 2020 Bundle Below on this page.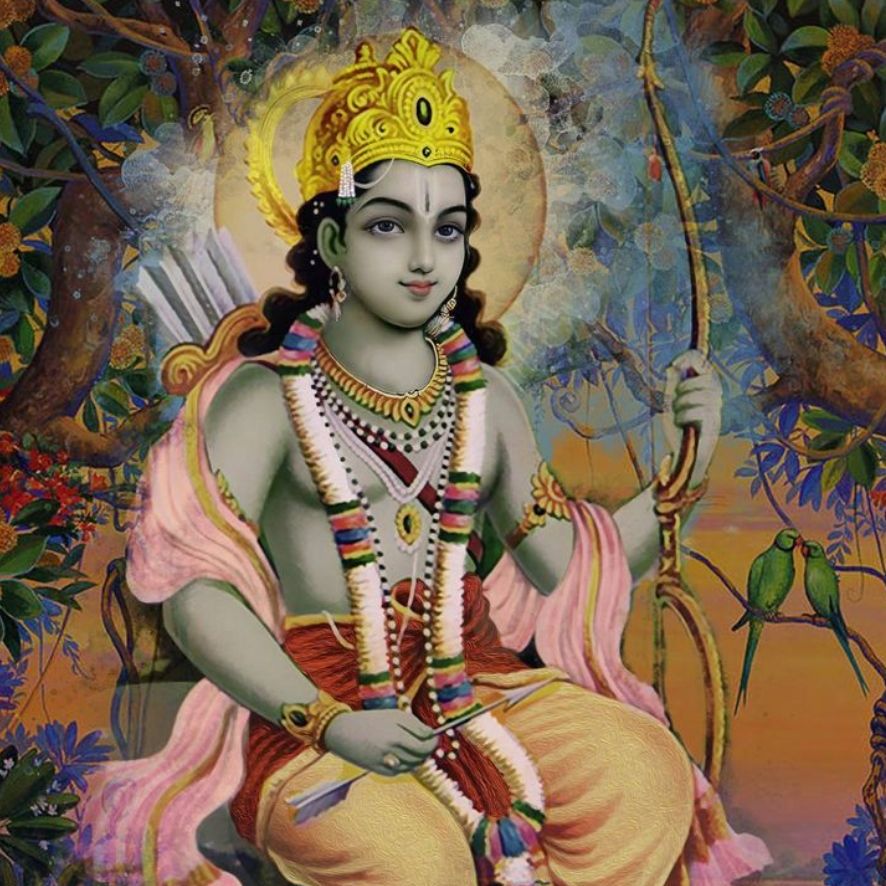 Day 10
Vijayadaśami
Rāma Deva
(approx. 2h30)
The tenth day is called Vijayadaśami, which marks the defeat of Durgā over the demon Mahiśāsuramardini. Vijaya means "victory", also symbolic of the victory over our own minds. This day marks the day where Dharma wins over Adharma, where the Value of Values reigns supreme in leading one's life. Also known as Dussehra, the tenth day reminds us of reverence and devotion for the shining Self as Devī or Brahmātmā. We return home and own up the powerful, shining Being who goes beyond even the phenomena and powers of sattva, rajas, and tamas, deified as Durgā, Lakṣmī, Sarasvatī in days 1-9. It is the day when the hero Rāma returned home to Ayodhyā after vanquishing Rāvaṇa, an inspiring model for each of us on our own heroine's journey of true Self Discovery and power.
I am beyond grateful to this Devī School and the days I have had so far with you. The beautiful Teachings & the Knowledge of Truth. Today is such a special day for me. I have been crying tears of relief, going through sorrow, mourning and more.
Bowing down to the Grace and the Auspiciousness of the Be Woman Project. I am sending all my Love to you beautiful Women who have made this possible and to all Teachers who have shared so much. Sending my Love to all Women who are joining here and everywhere. My deepest Gratitude to the teachings of Vedanta in this Sacred form for Women. ~ 2020 Festival Participant
Brenda
"The Navarātri Online Festival last year was such a blessing. So much depth, warmth and love. It really is a gift to yourself if you join this festival. Shāradā and her team share so much profound wisdom and teachings. I will certainly join this year again!"
I have been working this week during the festival, so I am following the recordings every day as much as I can. I can't describe how deep your words and meditations have moved me and offered me the opportunity to heal and reinforce my sacred bond with the divine in me. I feel comforted and connected and very very blessed to be a part of this beautiful family. Thanks a thousand and more. ~ 2020 Festival Participant
I have no words! I am overwhelmed by this Navarātri Festival… wow ! I bow deeply.. Thank you, Thank you, Thank you! ~ 2020 Festival Participant
I have spent all day in meditation on Devī (goddess), allowing her to one of her forms on a blank paper. I have just begun colouring. I often felt pressure arise while drawing commissions, not this time. The more she appears , the more alive … free and joyful I feel. ~ Petra
Navarātri was so transformative! The dedication, love and deep compassion from all of the facilitators, especially Shāradā was moving and really really life changing. So necessary… to be in this safe container, to hear, to experience these days was beyond special. With deep gratitude ~ Renata Rocha
Inez
"The Navarātri festival was an outpouring of generosity in sharing so much wisdom, knowledge, tools and sacred space holding. I learned so much, felt so inspired and nourished, and deeply touched in my heart. ❤️"
The 9 Nights of Goddess Worship celebrating the Divine Mother in the form of Durgā, Maha Lakshmi and Sarasvati Devi…. Has been such an honour and privilege… I am so grateful to be taking part in this festival full of love, sacredness and sisterhood … much love to Shāradā, Sylwia and the whole Be Woman Project Team for organising this beautiful online event with such love, grace and dedication, Jai Ma!! ~ Carolyn Sivaram
Thank you for this lovely nurturing festival. I feel so much more open and blessed. Beyond Grateful. It touched me in the right places. I have been crying, laughing and singing. Warm hugs to you Shāradā & Devīs. ~ Virkerskan, 2021 Festival Participant
This festival has been more intense than many face-to-face retreats. So intimate and deep. Thank you for opening and sustaining this special circle. ~ 2021 Festival Participant
I don't have enough words to express how many blessings I'm receiving through this Navarātri Festival. It reaffirmed the power that devotion and sisterhood had on our journey. I attend so many courses and yet there is no wisdom like the one that comes from the inside. A real validation that we already have all the knowledge we seek, we just need to go within and not outside. So many emotions came to surface to be released, layers of shame, wounds… and I've been receiving so much love, light and wisdom. Thank you Devis for holding this space in my transformation, for holding space for my sacredness with all that I am… all my light and all my shadows. Lots of love ~ 2021 Festival Participant
I am currently basking in the resonance of our final Pūjā. Thank you so much Shāradā Devī for sharing your beautiful essence with us. Thank you to all who attended and shared and listened… as we held each other. Feeling so connected <3 ~ 2021 Festival Participant
"Song of the Wind" Hello Beauties, this came through today to celebrate the last day of Navarātri! We made it! Woman and men all over the world coming together online, invoking and honouring Devī, Goddess. Thank you Be Woman Project for birthing this! Infinite Blessings. ~ Aida, Sweden
"When you think about nature, she doesn't hold back. She does beauty in an outrageous way" ~ Clare Dubois, Navarātri 2021 … with gratitude ~ Paula
Dear sisters, feeling connected-understood-a part of you all is so healing. The safe womb you create with all these colourful offerings is a place where we can learn, heal, be. Thank you so much, with love. Christine
I deeply appreciated all of the incredible powerful content, very profound and deep knowledge share, in a very personal and vulnerable way. It strikes me that the most touching part for me was to be able to listen to each teacher/speakers personal journey, to ask questions and to relate to my own journey. I felt supported, seen and empowered to keep walking my path my way taking the steps to my own healing followed by my intuition. ~ 2021 Festival Participant
This Festival has an endless worth to me <3 ~ Lena, 2021 Festival Participant
Ingela
"It was fantastic and filled with great knowledge & peace. It was during the work week so it was difficult to participate in all of the sessions during the day, but the ones that I did participate in were lovely, very warm, caring & inspiring. Thank You!"
I feel like we are connected like a web all across the Earth ~ Natty, 2021 Festival participant
I feel so safe in this container of ongoing rituals. I had a "wake up" week and met with shadows. Coming into ritual here, tapping into Women's Wisdom and Teachings here has been really supportive and Divine in timing for what I am experiencing in daily life right now. Thank you Shāradā & Team <3 ~ Kirsty, 2021 Festival Participant
I feel so much lighter today! Thank you to this Sacred Moment. Yesterday was a strong day… releasing a lot of emotions. Thank you. ~ Raquel, 2021 Festival Participant
Feeling grateful to be here with you all :) I have been wanting to go in the forest and ground all of this wonderful energy created these past 9 days. ~ Kiki, 2021 Festival Participant
I feel gratefulness, softness, inspiration, sensuality and community <3 ~ Arjan Erica, 2021 Festival Participant
I am very touched by the inner voice class that was so grounding and inspiring. My heart is filled with love to you Shāradā, Julia, Sylwia, Elisa & Joseph and all others who shared their energy, their smiles and their faces. Thank you for this <3 ~ Kajsa, 2021 Festival Participant
Thank you Shāradā Devī and all of you wonderful ladies <3 I am healing slowly and surely. Jai Mata Maha Devī. Śrī Mātre Namaha <3 ~ Artī Devī
A Sacred Union of the ancient Knowledge of the Self and Trauma informed Embodiment to reclaim your absolute Fullness, Power & Radiance.
Devī School & the Be Woman Project are here to inspire as many beings as possible to reclaim their absolute fullness & dignity through powerful teachings & tools; the magical world of rituals & mantras with the teachings of Vedanta (the knowledge of the limitless self) integrated with trauma informed Sacred Sexuality, Earth Wisdom, Inner Child Dynamics, & true community with the key ingredients of devotion, trust & universal values that we call Dharma.
The Navarārti Online Goddess Festival Full edition has been brought to you by Devī School since 2020.
Women have been sharing their gifts, passions, teachings, love and inspiration full heartedly during a powerful gathering lasting 9 nights and 10 days to neutralise jealousy, comparison, fear, to empower women to stand in their power, to reclaim their voice, their creative force, their sexuality, to stand up for important issues like eradicating abuse of women in yoga, women's rights, educating about fertility awareness, the wisdom of menopause, embodying ecstatic nature and so much more. 
This  year we will gather 2 times during the full Navarātri Ceremony, on day 1 and day 10 to honour the conquering of Dharma over Adharma in our inner and outer world, however, you are welcome to join the ceremony the full 10 days along with the Sadhanas and powerful sessions from the previous years. 
We welcome you to this year's Sadhanas for free.
You will be able to purchase a one year access to the bundle of the 3 festivals in the check out page.
Navarātri 2022 Recordings Include: 
Shāradā Devi: Opening & Closing Ceremonies, daily Sādhanās & daily 16 step Pūjās
ALONG WITH SESSIONS FROM THE FOLLOWING GUEST TEACHERS
Swamini Brahmaprajnananda Saraswati - The Power and Healing of Durgā Devī 

Ibu Robin - Power of Mother's Love 

Ni Luh Manis - The Power of Community

Uma Dinsmore-Tuli - Restoring Rhythmic Cycles of Deep Feminine Power - A Radical Yogic Act of Collective Rest.

 Jane Hardwicke Collings - The Autumn Woman Archetype & Wise Womanhood - Menopause

Nadeshwari Joythimayananda - 

She is Me 

Vaidika Bali - Feminine Power, Feeling, & Embodiment through Balinese Arts

Dr. Shari Tarbet - Sharing of a Poem 

Sheila Kamara Hay - Ecstatic Birth: A Divine Blueprint for all Creation

Charli Kornblum - "Return to the Sacred" Vocal Sound Healing to Uplift and Empower

Prema Mayi - The Power of Devotion through Sacred Sounds & Devotional Kirtan
Jelena Devī - Mother's of This Earth ~ Dance & Embodiment Journey
Kaya Mindlin - Lakṣmī Tantra
Beta Lisboa - Womb healing through Yin Fascial Yoga
Nathalie Sommer - Womb healing
Kāmadevī Carla Zürcher - Radical Transcendance
Daniela Mandala - Anatomy of the 7 Emotions: How to Alchemize the Body-Mind Complex
Anna Maria Magdalena - Earth Priestess Arts: Womb Voice of Woman
Parul Parvati - Jyotish (Vedic Astrology) and the role of the Moon as Mother
Shereen Öberg - 
Healing, Meditation & Ceremony to the Goddess
Shāradā Devī  - 
Trauma Informed Sacred Sexuality
Nima Kashavarzi, Shereen Öberg, 
Sheila Kamara Hey - 
We are all One
Shereen, Anna, Sanna, Lakshya, Shāradā & Nathalia - Mother Circles
Elisa Devī, Melanie Devī & Sylwia Savitā Devī - Session Support & Festival Management
Navarātri 2021 Recordings Include:
Shāradā Devi: Opening & Closing Ceremonies, daily Sādhanās & daily 16 step Pūjās
Swamini Brahmaprajnananda - Devi and the dance of Dharma - story of Devi Mahatmyam
Dr. Uma Dinsmore - Tuli - Yoni Shakti - Womb Yoga & Special Panel on Eradicating Abuse of Women in Yoga
Clare Dubois - Embodying Ecstatic Nature
Bex Tyrer - Women's Health Activist
Dr. Sujatha Kekada - Ayurveda
Sanna Akasha Tobias - The knowledge that gives inner freedom
Kaya - Kundalini Shakti - Nourishing the Devi within
Kay Rose - The Art of Sacred Touch
Emily Kuser - Women's SelfCare - The Gift of Grief
Beta Lisboa - The Wisdom of the Menopause & C-Section Healing
Parul Dave - Vedic Astrology / Joytish
Daniela Mandala - The Golden Manifesto. Piercing Reality through Heart Radiance.
Disa Mineur - Fertility Awareness & the Menstrual Cycle
Meghan Currie - Love Every Moment
Taj Savitri - Becoming Intimate the Multidimensional Self
Tove Folkesson - Finding Your Voice - Writing Your Story
Prema Mayi - Kirtan - Devotional Music
Arti - To Awaken the Within as we Dance Through the 9 Nights
Nidhi Singh - Sufi Whirling Meditation
Monali - Developing Devotion - Dance & Music traditions of Bali & India
Nalini Blossom - Singer Songwriter & Womb Awakening Mentor
Navarātri 2020 Recordings Include:
Shāradā Devi: Opening & Closing Ceremonies, daily Sādhanās
Sylwia Devi: Lakṣmī & Sarasvaī Sādhanā
Julia Devi: Durgā Sādhanā
Rahel Devi: Durgā & Lakṣmī Sādhanā
Swamini Brahmaprajnananda Saraswati - Shakti
Sanna - Coming Home in Yourself
Emily Kuser - Sex, Death & Money
Nathalie Sommer - The Guided Womb Healing Gathering
Amy Thiessen - Voices of the Goddess
Daniela Garza Rio - Medicine Womben
Bex Tyrer - Unwind the feminine Yoga for Woman
Maryse Cote - Be the Heroine of Your Own Myth, Living Sexuality from the Inside Out
Lakshya - Prenatal Yoga Class
Marie Close - Dance & Art Life Ritual
Prema Mayi - Magical Kirtan
Dr. Sujatha  - Nurturing Shakthi & Understanding the Fundamentals of Ayurveda
Lindsey  - Together we Honor Saraswati, goddess of wisdom, creativity, fresh waters, and so much more
Jenny Janaki - "Beloved Womb" a Yoga class
Beta Lisboa - Yin Fascial Yoga for Stress and Anxiety Reduction
Petra Parvati - "Supported from Within" a Sacred Spine Yoga Therapy
Jo Shakti Argañaraz - Sacred Rage
Ingela - Durga Devi
Kay Balnaves - Self-care abdominal, womb & pelvic massage practice
Sat Sisters - Concert with devotional music